Pick-ups are not automatically scheduled for Milk Stork shipments.
IF YOU ARE UTILIZING MILK STORK AS AN EMPLOYEE BENEFIT:
We have a new feature that will simplify the FedEx pick-up process. With the latest update, you can now scan the QR code on your FedEx shipping label to schedule your pick-up. This eliminates the need for lengthy phone calls or online forms, giving you the flexibility to schedule your pickup at your convenience. Pick-ups cannot be scheduled more than one business day in advance.
​​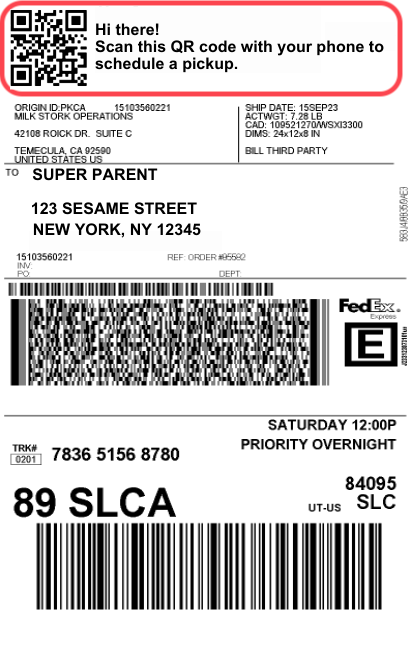 Once the pick-up is successfully scheduled, you will receive an automated email from FedEx confirming the scheduled pick-up.


IF YOU PLACED YOUR ORDER ON OUR RETAIL SITE:
Milk Stork can schedule pick-ups on your behalf Monday through Saturday. Please fill out the

FedEx Pick-Up Form

to let us know the day, location, and time of your pick-up (FedEx requires a 4-hour window, and we usually recommend between 11am-2pm) We need at least 24 hours' notice to schedule a pick-up.
If you are staying at a hotel and wish to have them help you coordinate your outbound shipment of milk, be sure to confirm: 1) That they handle FedEx Express shipments 2) What time FedEx pick-up occurs, and 3) Who the package needs to be left with for pick-up. Be sure to check your tracking number to ensure the shipment was successfully handed off.
If you do not need a pick-up scheduled, you can drop off your coolers at any authorized FedEx location. FedEx-approved shipping locations can be found

here.
⚠️Whenever possible, using an actual FedEx Office Print & Ship Center or FedEx Ship Center rather than a 3rd party "authorized location" is highly recommended.