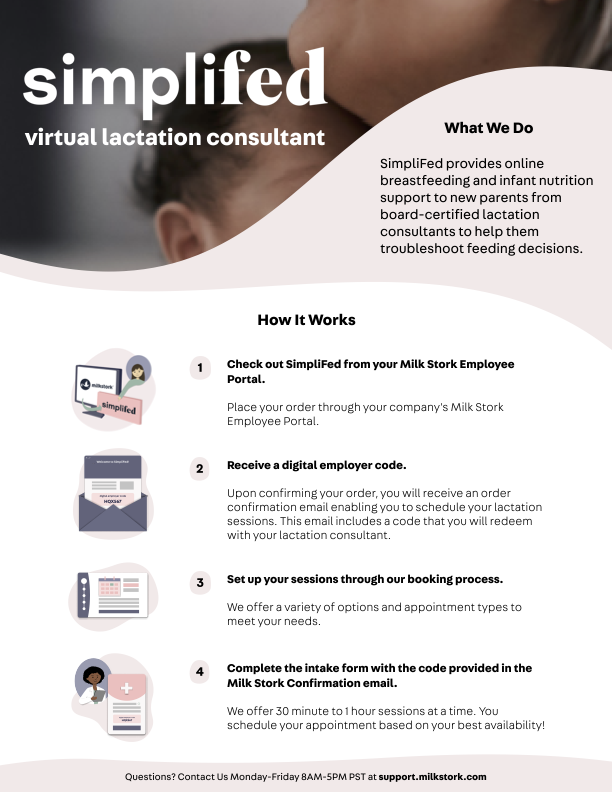 What is SimpliFed?
Breastfeeding is hard. Making decisions about infant formula and breast pumps is overwhelming. Navigating anecdotes vs. evidence-based approaches is confusing. Whether during pregnancy or the first months of your baby's life, SimpliFed is here to answer your questions.
With SimpliFed, you can schedule virtual consultations with highly-trained, international board-certified lactation consultants at your convenience and from the comfort of your home. Consultations are conducted via a secure, HIPAA compliant video connection.
How do I schedule my appointment?
To access SimpliFed's service, you will navigate to your Milk Stork Employee Order portal and click on the SimpliFed tile. From there you will be able to choose from the available appointment packages. Once you confirm your selection, you will be emailed a link to SimpliFed's booking page and a code that will enable you to book your appointment. Once you have completed the booking process, your lactation consultant will email you an intake form where you will provide the code.
Prior to your appointment, SimpliFed will send an email through a secure, HIPAA compliant video connection for your appointment.
To schedule subsequent appointments, you will use the same link and code. During the subscription period you can work with the same lactation consultant or choose to work with different consultants.
What is the length of each appointment?
Appointments are 1.5 hours or less.
Who are SimpliFed's lactation consultants?
All of SimpliFed's lactation consultants are International Board Certified Lactation Consultants (IBCLCs). This credential means that the lactation consultant has done extensive training and many hours of practical, clinical experience with parents and their infants. Essentially, if you encounter issues when feeding your baby, then they are here to support you!
Can I meet with the same lactation consultant in a future visit?
Yes, you are able to schedule appointments with specific lactation consultants.
Can I choose a specific consultant or is it a computer generated match?
Yes, you are able to review consultants' bios and backgrounds and select a specific consultant to work with.
Are "first available" appointments available?
Yes, you have the option to choose first available appointments within 24 hours.
Can I direct message with an IBCLC?
Yes, employees have a direct messaging option through SimpliFed's secure, HIPAA compliant portal.
Will I be billed for my SimpliFed consultation?
No. Your employer covers the full cost of your SimpliFed package ordered via the Milk Stork Portal and booked utilizing the link and code provided to you during the order process.
Where can I get more information about SimpliFed's services?
For more information on SimpliFed's services click here. If you have specific questions, please feel free to contact SimpliFed directly at contactus@simplifed.us or at 339-234-0164 from 6AM ET - 11PM ET.